End of Fall 2012 Semester Review
After much hard work and many wonderful events, the students and staff of our Pleasantville office wrap up the semester as they clock out for the last times of the year. Much can be said about our events and successes, such as registering over three hundred students to vote and traveling to the polling sites on election day. With help from Pace students, we have helped those affected by Hurricane Sandy, painted and beautified a NYC public school, decorated the Edenwald Center for the holidays, and helped children learn about the Hudson river at Beczak Environmental Education Center.
Over 200 students have volunteered with us this FALL 2012 semester!
Thank you to all those who have attended our events, and continue to read our emails and newsletters. We encourage you to take the next step and join the Periclean Fellowship Program. As a Periclean Fellow, you will attend workshops, events, and service projects with your fellow Pace students. By the time you're done, you too will organize a civic engagement project.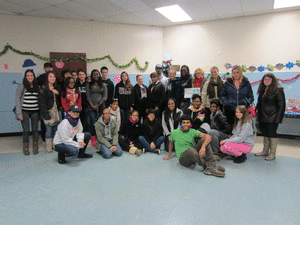 For more information, email us at CCARPLV@pace.edu.
We wish you luck on your finals and a great winter break!
—-
BRANDO B.
Student Outreach Coordinator